The fluorescein sodium or sodium fluorescein is an organic dye substance that produces a fluorescent light when irradiated with ultraviolet light.
The fluorescence is the phenomenon whereby certain substances absorb ultraviolet light and subsequently emit it immediately, i.e. as soon as the energy (in the form of light) is no longer radiated, they cease to emit.
Fluorescein itself is an insoluble salt, made soluble in water by the sodium salt added to its composition. It is a reddish powder, which must be handled with great care, as a few specks of powder can turn a large surface (provided it is moistened) into fluorescent.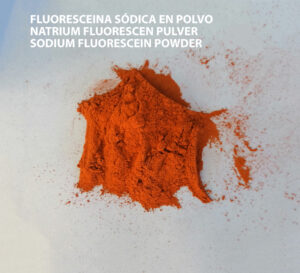 Uses Fluorescein Sodium
Sodium fluorescein has a multitude of uses. The uses are:
Ophthalmology: In ophthalmology, sodium fluorescein is used to detect vascular abnormalities of the fundus and iris of the eye. It is administered by injection and the dye takes a few seconds to appear in the choroidal and retinal vessels. It can also be administered orally or topically.
Hydrology: Due to its high detection capacity and low absorption, sodium fluorescein is used for hydrological studies. For example, tracing underground currents, checking hydraulic connections, measuring hydraulic flow rates, watertightness, etc... Fluorescein is increasingly in demand due to the growing demand for hydrological surveys that require the use of artificial tracers.
Leak Detection: Due to its fluorescent emission, sodium fluorescein also has applications in leak detection. Mainly in the cases of: Water reservoirs, Air and gas circuits, Domestic plumbing, Roofs and attics.
Fluorescence experiments: You can perform fluorescence experiments with sodium fluorescein powder. Make fluorescent liquid
Fluorescence
Sodium fluorescein fluoresces when irradiated with ultraviolet light. It is soluble in water thanks to the sodium, and because it has phenolic groups and carboxylic acids in its structure, it dissolves better in slightly basic media. The highest light emission at pH around 8 emission wavelengths near 550 nm. Read more about fluorescence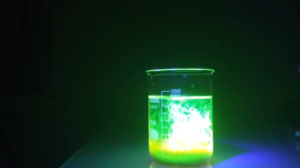 Toxicity
Inhalation : Make sure you breathe fresh air. Rest.
Skin contact : Remove affected clothing and wash all skin exposed to the product with mild soap and water, then rinse with warm water.
Eye contact : Rinse immediately with plenty of water. Get medical attention if pain or irritation persists.
Ingestion : Rinse mouth. DO NOT induce vomiting. Get emergency medical attention.
Buy Fluorescein Sodium