Sodium acetate, also called sodium ethanoate, is a chemical compound with the formula NaC2H3O2. It is the sodium salt of acetic acid and is commonly used for pH regulation and as a food additive. It is also used in experiments to make hot ice, as it has the particularity of crystallising instantaneously in an exothermic reaction in certain situations.
IDENTIFICATION AND PROPERTIES SODIUM ACETATE
Name: Sodium acetate
Synonyms: Acetic acid, sodium salt, trihydrate.
Chemical Formula: CH3COONa 3H2O
CAS: 6131-90-4
EC: 204-823-8
Appearance: Solid
Colour: White
Odour: Odourless
pH: 8.9 (0.1m solution)
Boiling point: 122.8 ºC
Freezing/melting point: 57.8 ºC
Solubility: Soluble in water
Specific gravity/density: 1.45
Molecular weight: 136.08
USES OF SODIUM ACETATE TRIHYDRATE
Sodium acetate is used in the textile industry as it removes sulphuric acid residues.
In the textile industry it also acts as a photoresist especially when aniline based dyes are involved.
The solution of acetic acid and sodium acetate acts as a buffer solution to maintain the pH at certain values.
It is also used in thermal hand warmer bags. In bags in which the contents harden when pressed by heating for a certain period of time.
INSTANT CRYSTALLISATION OF SODIUM ACETATE
Sodium acetate has the peculiarity of crystallising instantly in a saturated solution. To achieve this instantaneous crystallisation, it is necessary to dissolve 200g of product in 50ml of water and heat it while dissolving. As it is a hydrated product, when heated, the product itself releases water.
It is then allowed to cool. Once it has cooled to below 40º, when a disturbance is introduced into the solution, it will crystallise instantaneously.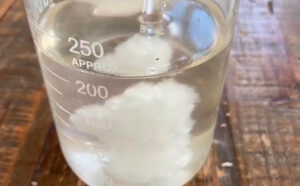 As it crystallises instantaneously, it heats up. This experiment is therefore also known as hot ice. More information on this experiment can be found here: hot ice experiment