WHAT IS TDS?
Total dissolved solids (TDS) is the total weight of all solids (minerals, salts or metals) dissolved in a given volume of water, expressed in milligrams per litre (mg/L) or parts per million (PPM).
PROPERTIES
100% new and high quality.
This item can be used in: water purifiers and filters, quality monitoring of food (vegetables, fruits) and beverages, swimming pools and spas, aquariums, hydroponics.
Hold function: saves measurements for convenient reading and recording.
Auto power off function: the instrument will automatically switch off after 10 minutes of non-use.
Dual range: measures from 0 to 999 ppm, with a resolution of 1 ppm. From 1,000 to 9,990 ppm, the resolution is 10 ppm, indicated by the "x 10" image, factory calibrated.
Range: 0-9990 ppm, resolution is 1 ppm, from 1000-9990 ppm, resolution is 10 ppm.
Accuracy: +/-2%.
Battery: 2 x 1.5 V button cell battery (not included).
Item size: 154 mm x 29 mm x 19 mm.
Weight: 72 g (2.3 oz).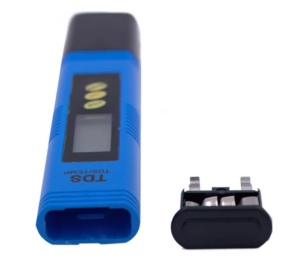 HOW TO USE THE TDS
Remove the protective cap and turn the meter on.
Immerse the meter in the solution (maximum immersion level is 5 cm).
Slightly shake the meter to release any bubbles. Wait until the display stabilises. Press the HOLD button to lock the reading.
After use, shake excess water out of your meter and replace the lid.
NOTE:
Do not immerse the entire TDS meter in water or immerse it beyond the maximum immersion level. The meter is not waterproof.
Do not store the instrument in high temperatures or in direct sunlight.
Do not strike, press or drop this instrument.