SNOW FOR CHRISTMAS TREE
Christmas tree snow is a powdered, cotton-based snow (with other components), which will help you to give a second life or a new touch to your Christmas decorations. To apply the snow, all you need is some water and a sieve that allows you to deposit the snow as small flakes. Below you will find the application guide, which is also included in the package.
QUANTITIES OF FLOCK SNOW TO BE USED
500g pack -> 1.5 metre high tree
1kg pack - > Tree >2m, or very dense tree.
CÓMO APLICAR LA NIEVE EN EL ÁRBOL NAVIDEÑO
Para aplicar la nieve, es necesario humedecer previamente las ramas con agua. Lo ideal es un dispensador de agua a presión, pero también puede valerte un spray convencional de agua. En esta imagen puedes ver la guía de aplicación paso a paso. También te vendrá como etiqueta pegada al paquete de nieve.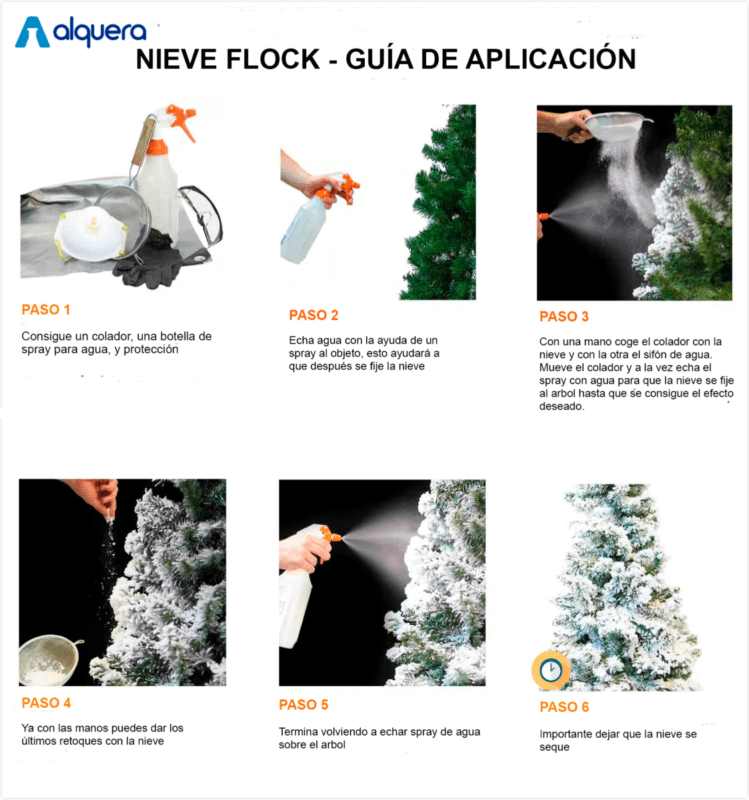 ALGUNAS FOTOS CON LA NIEVE PARA ÁRBOL APLICADA
En este video puedes ver fotografías con ejemplos reales de árboles donde se ha puesto la nieve flock de Alquera.
FREQUENTLY ASKED QUESTIONS
¿La nieve se coloca con el árbol montado o sin montar?
Se puede hacer de las dos maneras, aunque nosotros recomendamos hacerlo sin montar, ya que puedes pulverizarlo todo sin problema y y luego echar la nieve en un colador, lo abres bien y luego empiezas por la parte de abajo y ya continuas hacia arriba para hacer una mejor aplicación de la nieve.
¿Cuánto tiempo hay que dejar secar la nieve en el árbol de navidad?
Depende de la cantidad de agua que hayas utilizado. Tardará en secar lo que tarda el agua en secarse.
¿Se cae la flock snow una vez aplicada?
Siempre recomendamos hacer un poco de mantenimiento cada 7 días aproximadamente, se tendría que pulverizar de nuevo pero esta vez en poca cantidad, solo para que la nieve se adhiera al árbol. Después no debería caerse, únicamente si una zona no se ha pegado con agua podría desprenderse un poco. La nieve se quedaría pegada de forma permanente, a no ser que se limpie.
¿Dura la nieve para árbol de navidad de un año para otro?
La nieve si sigue pegada de un año a otro, lo único que puede pasar es que se haya desprendido un poco, pero dependiendo de la cantidad que hayas usado para decorar tu árbol previamente. Si ha sobrado un poco puedes volver a rellenar esos huecos que se hayan desprendido, pero normalmente lo que se suele desprender de un año a otro suele ser poca cantidad.
OTROS TIPOS DE NIEVE
Si estás buscando nieve para tus decoraciones, nieve para el belén, en polímero, o quieres otro tipo de nieve, en este apartado puedes encontrar todos los tipos de nieve artificial.
Ver todos. Artificial Snow